"Sonny James is a showman of the first magnitude. The crack musicians that make up his band give the listener the feeling that something special is going on here" -Guillermo Slazo/Preview "Go enjoy their invigorating funk-n-soul of a vintage flavor." -Boneman/Houston Music Show "Sonny James is one of the most entertaining R&B frontmen in the Gulf Coast area. Energy, wit, and natural talent ... an unpretentious good time." -Bill Gonce/Texas Music News Magazine
born down in conroe, texas, the crazy wild man that many people are calling 'sonny james'...grew up on the religious side of the tracks. he began to hear and see some of his peoples like some of his uncles, some of his neighbors who were drinking that juice and listenin' to some of that serious music from the 50's. rock and roll, like chuck berry and little richard, bo diddley. having a pair of blue suede shoes when the carl perkins song came out, he couldn't get the music out of his blood. he went on to play music in high school and then had a religious experience where he was involved in choirs and quartets. but he couldn't get that sound out of his head. sounds of his uncles dancing in the juke joints.
he got him another guitar, ole yeller, where he began to practice and to hone his skills in his garage across the skreets from a halfway house. the heavily medicated halfway folks...i guess they were halfway folks and halfway medicated...would be his first audience to approve of his blues style, as they sang and danced and asked him to buy them some liquor, even one of the halfway folks joined him on clarinet, to the disapproval of their watchmens, in this case a woman.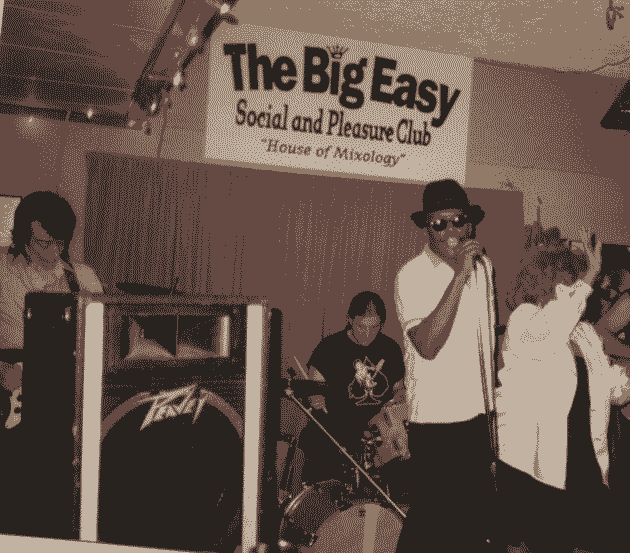 he got involved in a band in the 90s, playhing with the greats in houston like teri green, clarence green, sonny boy terry, joe hughes, little joe washington, eric dane, greg 'skinny g', jay hooks, that great band the drop kick chihuahuas, and many many more houston musicians. too many to name.
well what can i say? i'm sonny james, and i sing the blues. i've been having the blues for a long long long long long time. and i thought it was about time for me to lay it out...tell it...give it to you. my blues experience goes back to when i was a child in conroe, texas where the traveling medicine shows would come through the small towns, selling that healing oils. but they also brought blues musicians, who moved me. i have been influenced by, or have heard, or have met many of the great blues people like junior wells, whom i spent some time with when he came through town. and muddy waters, little joe washington, albert king, albert collins, and i could go on and on.
after being in the religious circle for years, singing in choirs and quartets for years, circumstances and situations made me want to express what many people express, what many people like you who are reading this experience, the sho nuff blues. i try to sing my blues with a feelin' from deep down in my soul. way deep in the middddle of the night type blues that make you want to holler all night. that's what i'm trying to say.
the musicians i'm playing with are the best. they got the feeelin'. we got the feelin'.
-sonny james